Non-English Developers Prefer AI Chat 2x More
AI code assistants are changing the way programmers write and develop software, big time.
Before Google programmers had to rely on heavy books to learn programming languages and find out how to debug their code. Not any more.
Dial-up your weird sounding modem back to 1998, when Google was launched. Pre-millenium, Google already had a huge impact on the developer community. Back in the day, cool developers would copy and paste their code or a programming question into the Google search bar to find things called websites to help them with their code. StackOverflow became popular in the dev community thanks to Google because the website showed up in the top pages.
Today, developers are riding the next wave of transformation. Developers don't need Google anymore. And modems are silent. Developers install an AI code assistant on their devices. This assistant will index their codebase. It will help them write new software, debug, troubleshoot, or improve existing software.
Bito is a productivity tool that empowers developers by delivering OpenAI and Anthropic's AI to everyday developer workflows. Bito plugs into a developer's IDE and CLI, providing instant access to their own personal AI assistant.
Bito has over 100,000 active users who make over 1M AI queries per week from companies like Apple, AirBnB, NVIDIA, Salesforce, among others. Over 7% of the companies around the world who use Bito have over 1k code developers on their teams.
In August 2023, Bito surveyed how developers are now using AI tools. The insights map the many ways AI is transforming the developer landscape around the world, and suggests reasons for it. The analysis is based on the usage of Bito by its 100k+ active developers.
Bito Report Facts and Stats
Let's crunch some data.
Fig 1 presents a snapshot of 2023 US developer AI deployment trends. The US is above average in the use of AI in Writing/Refactoring Code, UI/UX Development, and (marginally) in Code Documentation suggests that AI is of greatest utility in these areas.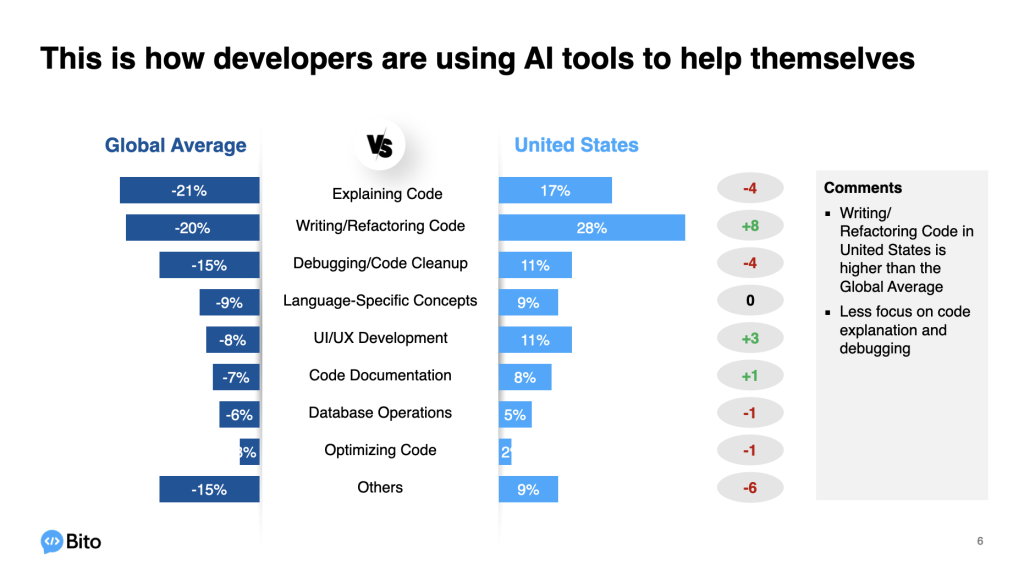 Writing/Refactoring Code is above average in China, too, as are Language-Specific Concepts (Fig 2, below) – though in China, when a full chat and AI model are available, Database Operations and Optimizing Code are slightly above global average as well.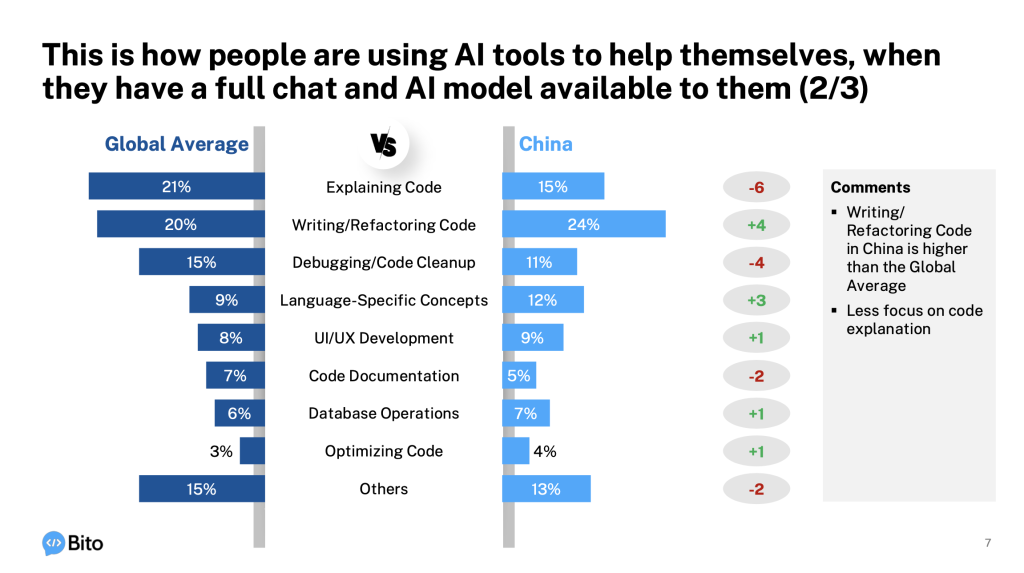 So what of India? India is, of course, an AI powerhouse, just as it has been a tech superforce for decades.
Fig 3 sheds light on India's uptake of AI deployment in its developer enterprise.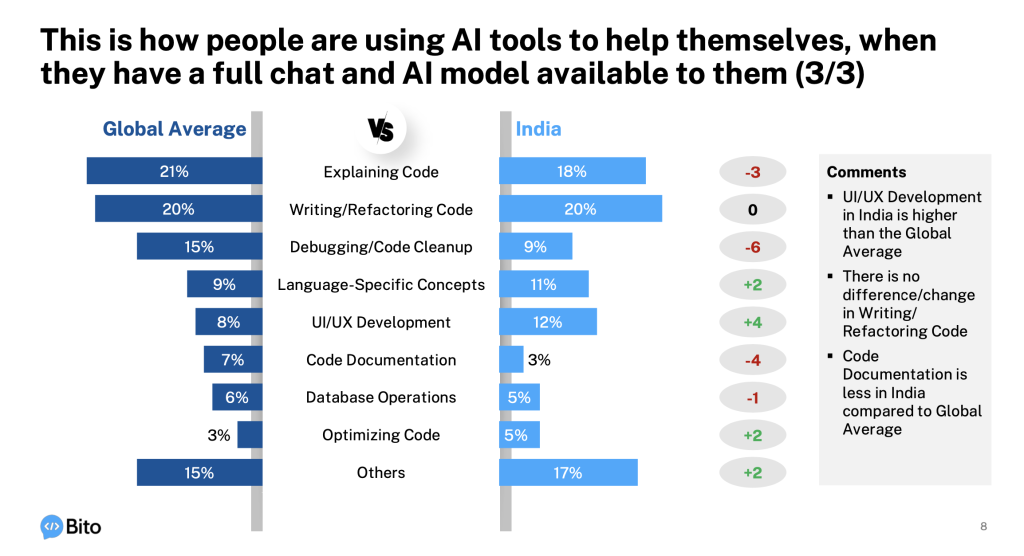 Note the commonality of the uptick in UI/UX development across all three territories.
Both UI design and UX design require working with end users to innovate easy, effective interfaces.
So we might surmise that indeed AI code generation tools enable quality communication between developers and end users.
Additional Analytics Insights
According to Bito's data, non-English speaking Western countries and China use AI chat features almost 2x per user per week compared to English speaking countries (US/UK/Canada). There may be several reasons for this, e.g. users in China are more inclined to use chat-related tools: WeChat is very popular in the market (see Fig 4 below).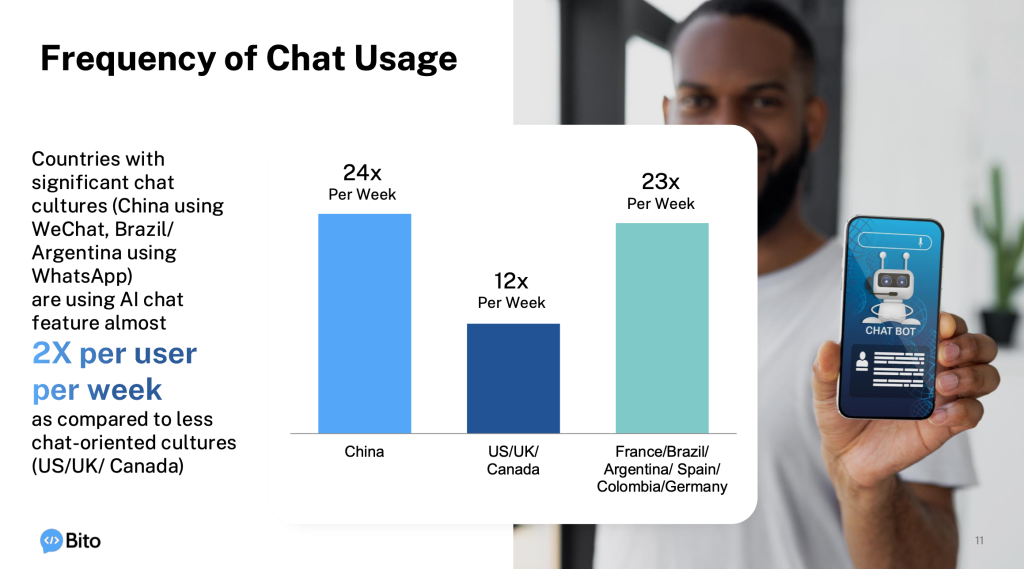 Also, non-English speakers can communicate with an AI assistant in their native language rather than using English content on StackOverflow.
To highlight some more interesting findings: In Zimbabwe, developers use AI to explain code functionality four times more than the global average.
Peru and Kenya use it twice as much as the average. Hungary uses 'generate comment' five times more than the average.
Developers from Bangladesh stand out when it comes to the 'generate test cases' use case, using it four times more than average.
Morocco uses 'performance check' much more, four times the average amount, and 'style check' almost 2.5 times more than most countries highlighted in the report do (Fig 5 below).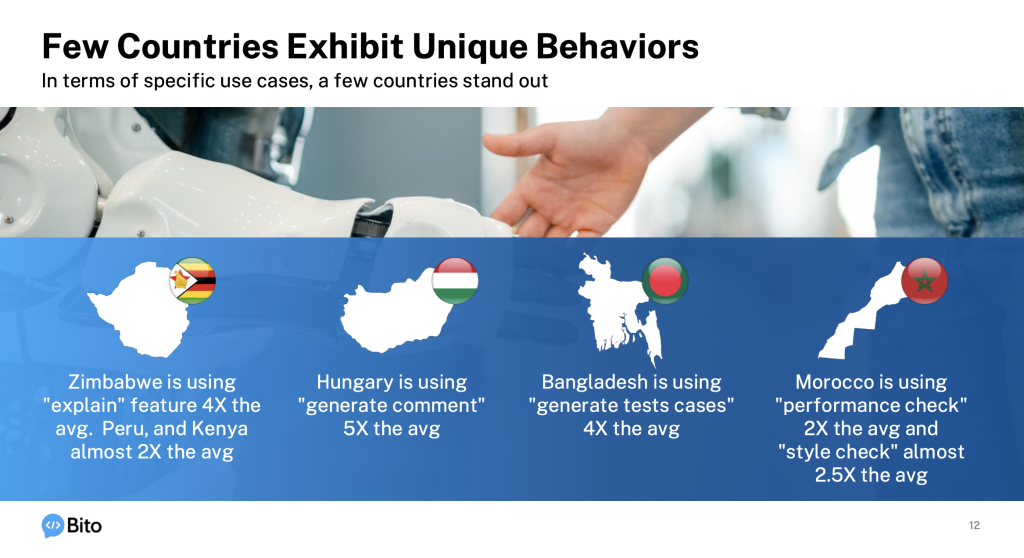 The report sheds light on the widespread adoption of the AI code assistant tool. Interestingly, it has gained traction among seasoned professionals, with over 40% of developers with over 5 years of experience relying on its assistance in their daily programming tasks.
Bito's big worldwide study shows that this tool is popular with all kinds of developers, no matter how much experience they have or how big their company is. And even though AI software tools are still new, developers from all different backgrounds are finding it useful.
You can find the full report here.
Subscribe to our newsletter.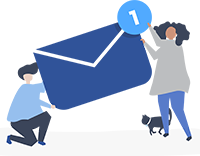 Stay up to date with everything that's happening in the world of Artifical Intelligence.